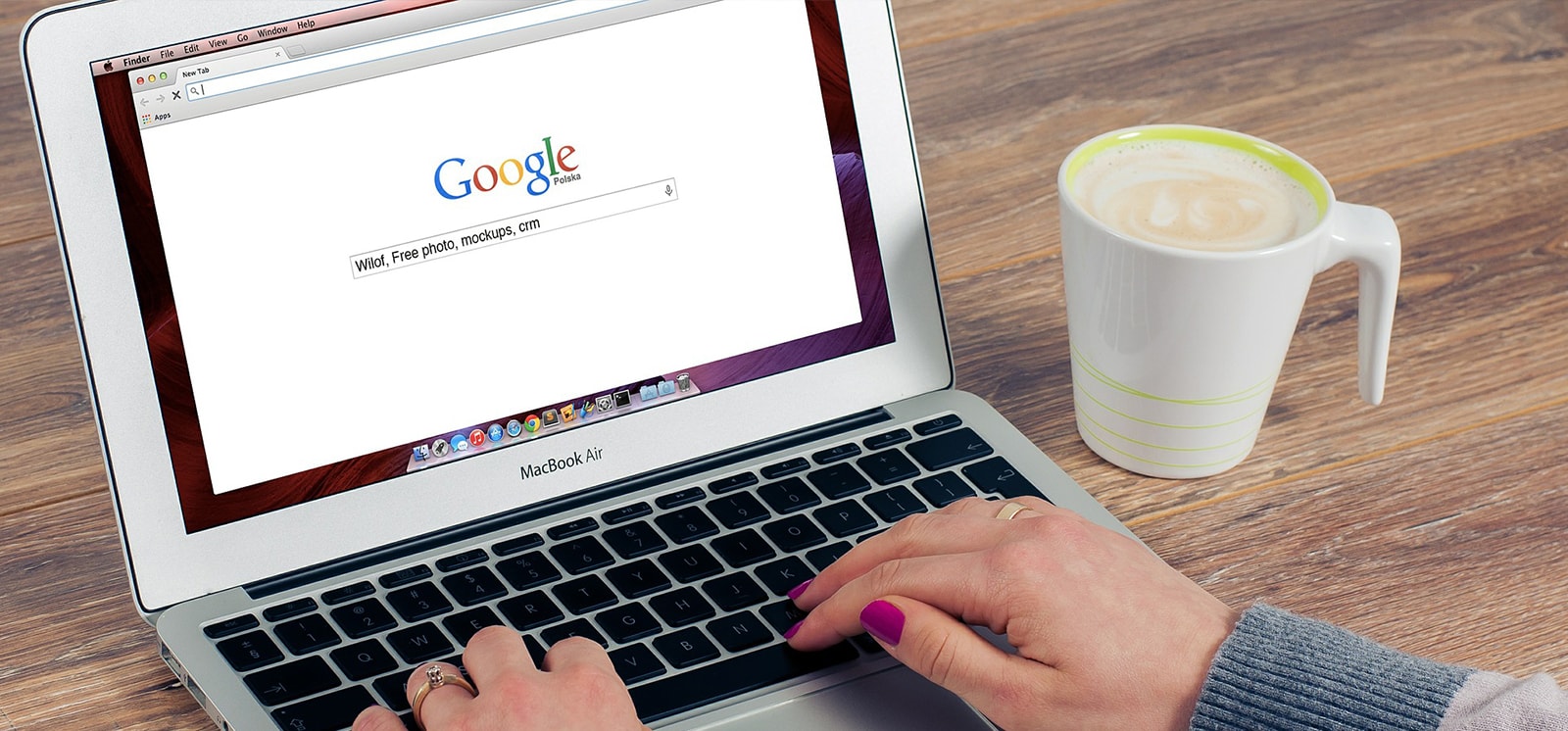 SEO SERVICES WE PROVIDE
Comprehensive and Transparent Monthly Report of Tasks Completed
Comprehensive and transparent Monthly Rankings Report
Keyword Research
Website Audit
Competitive Analysis
Website Copywriting
On-Site Technical SEO
Citation Building
Link Building
Mobile Optimization
COMPREHENSIVE AND TRANSPARENT SEO REPORT
One of the biggest complaints we've received from business owners is that they never knew what their SEO company was doing. They were only told that ranking higher takes time and that the results would come. In some cases months go by and they're right where they or barely higher in the rankings.
Each month we'll provide you with a comprehensive report of exactly what SEO tasks were done so there's no confusion about where your dollars are going.
Search engine optimization is an ongoing process and it does take time, but that doesn't mean you should be left in the dark about what's going on.
Below is am example of the type of report you can expect.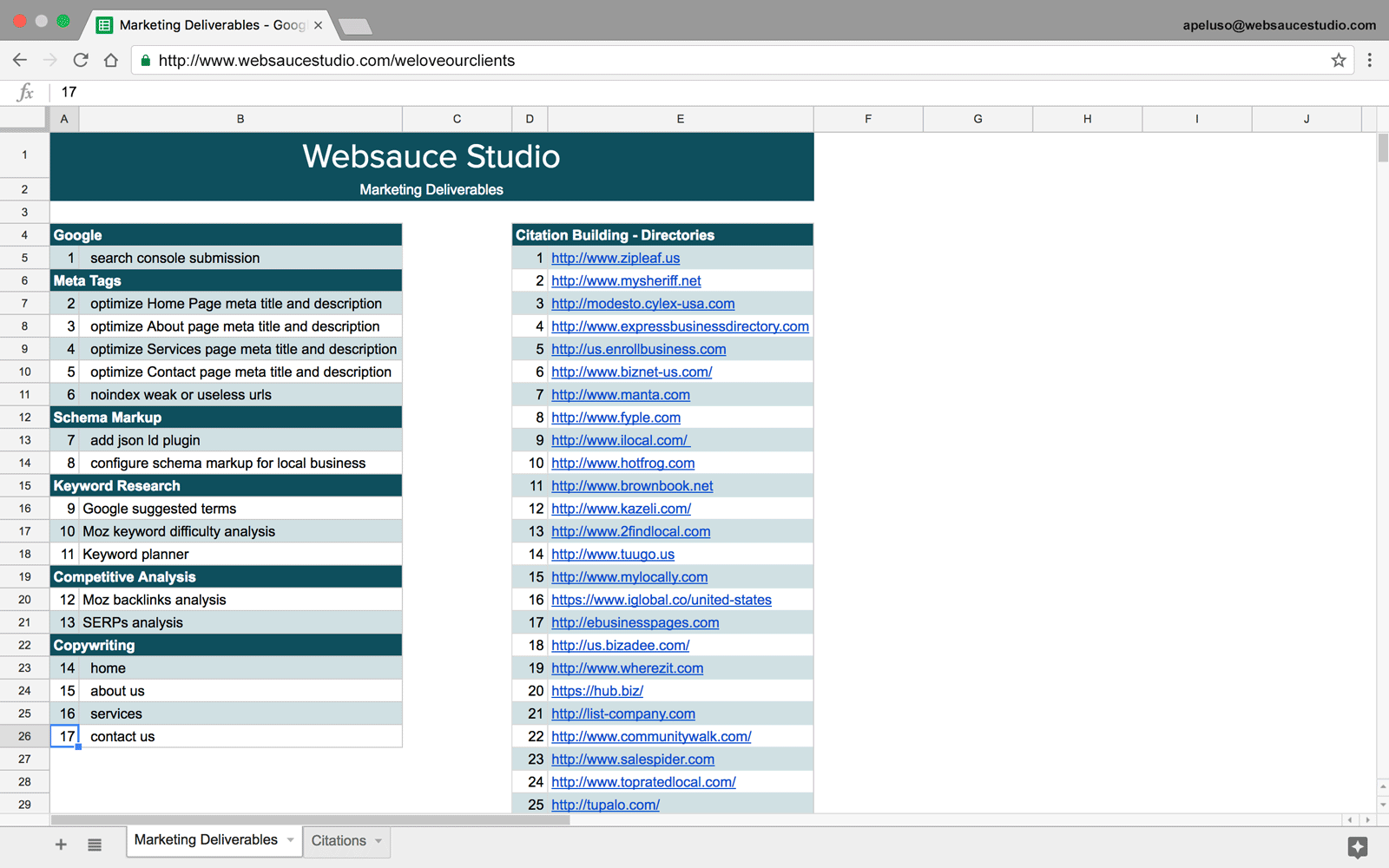 Above is a Marketing Deliverables Report for VP Marketing Solutions, a local business in the Sacramento area who we performed search engine optimization services for.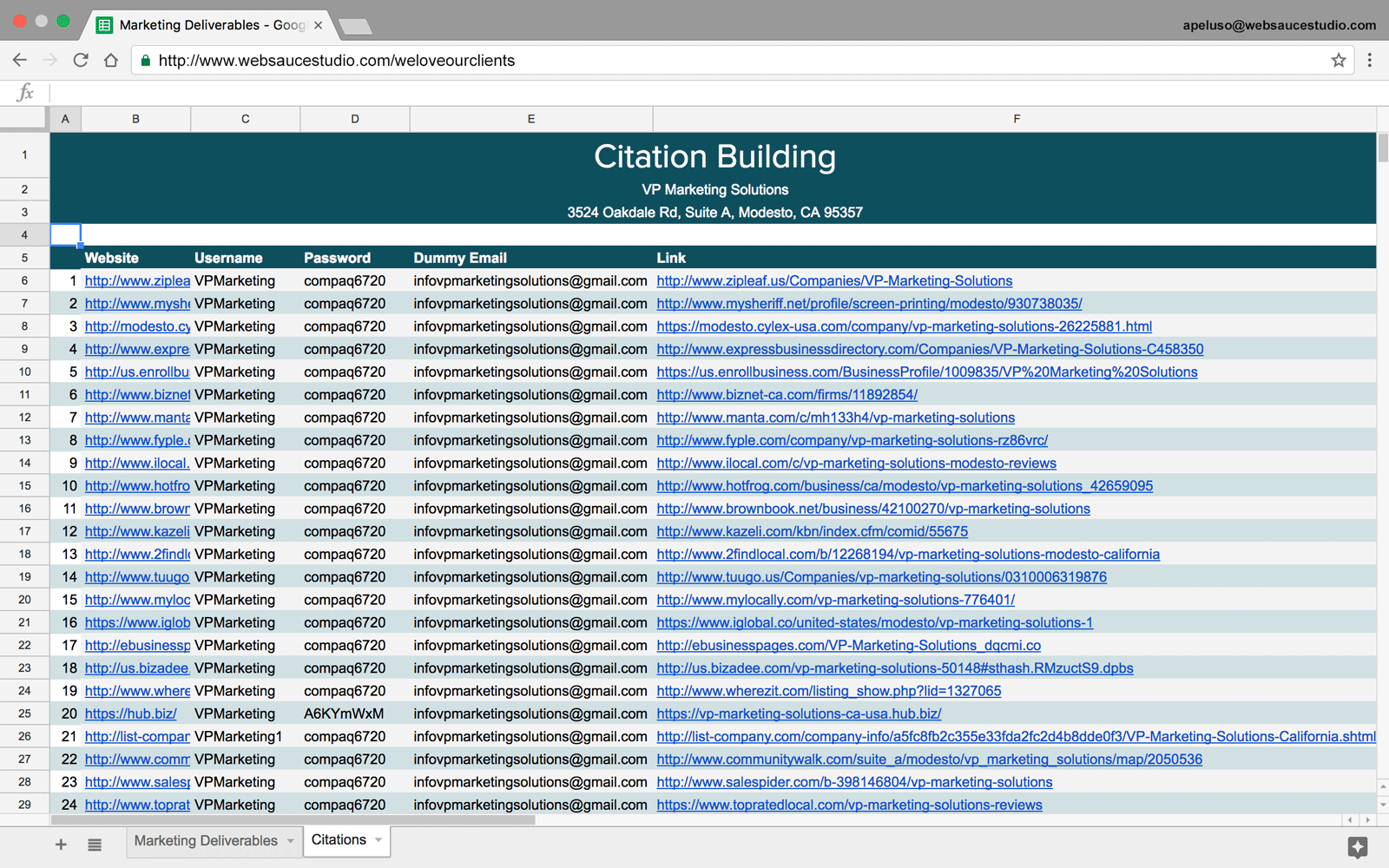 A list of citations we created for the client.
SIMPLE AND TRANSPARENT RANKINGS REPORT
We have powerful software that shows exactly how you're ranking for all of the keywords we're targeting.
Before we begin working on your website's SEO we'll show you where you're starting and each month thereafter we'll share the results of the work being done.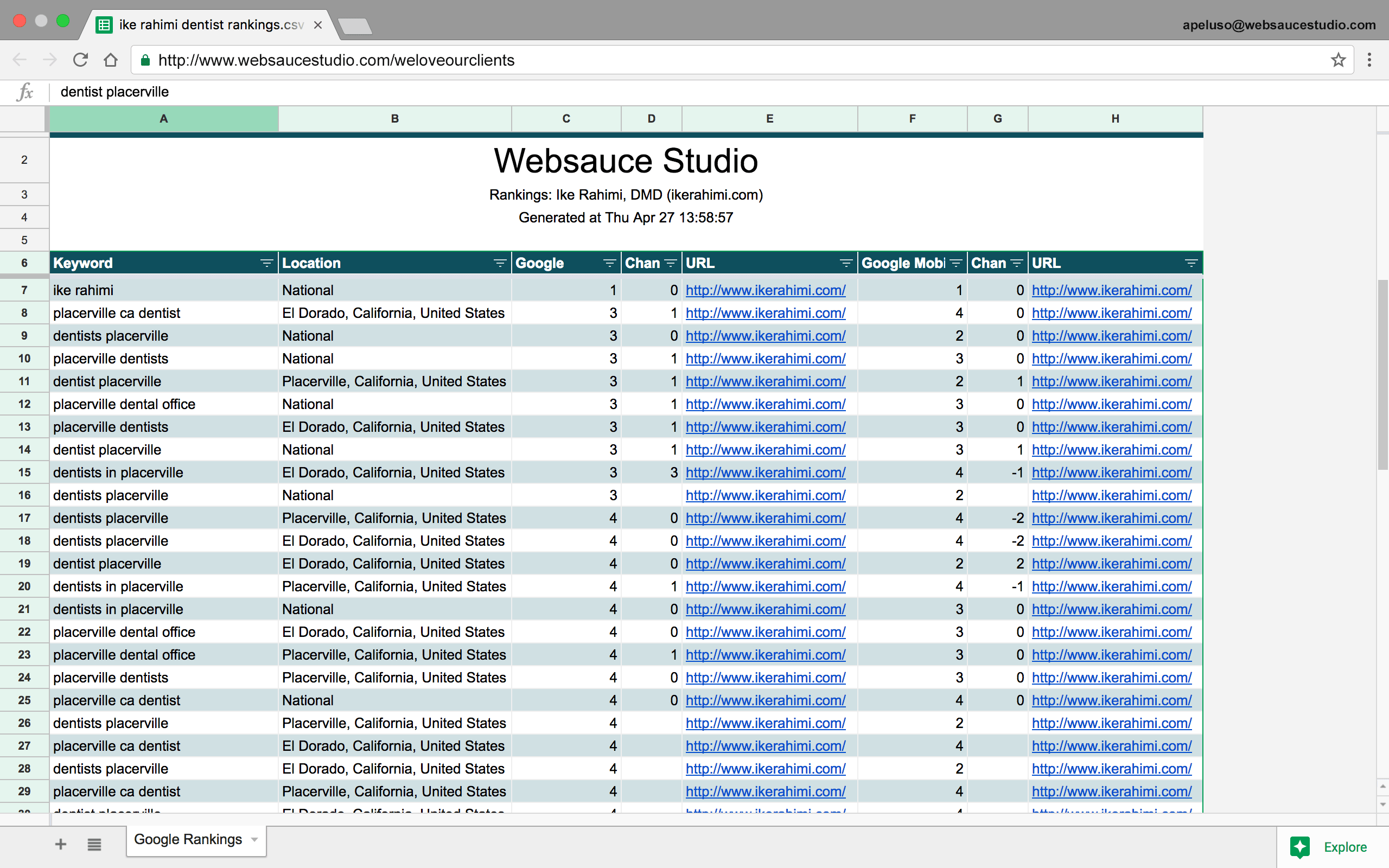 Above is a rankings report for a dentist client of ours in the Sacramento area. This is after one week of SEO. We list the current rankings and the change in rankings that took place during the period we reported.
WEBSITE AUDIT
If you have a website already built we want to learn about how your website is doing and see why it's performing the way it is.
Our website audit will find your ranking for every keyword you're currently ranking for. In addition to seeing where you're ranking we also take a look how your website could be improved to rank higher.
COMPETITIVE ANALYSIS
SEO is the most competitive online marketing strategy with over
$65 billion in SEO related spending
in 2016.
It's hard to know why you're ranking the way you are without knowing what the competition is doing. Often times we find that ranking for certain keywords doesn't make sense because of the level of competition and our competitive analysis will help us figure out which keywords do make sense to go after.
KEYWORD RESEARCH
The first step to any search engine optimization project is keyword research. Using multiple SEO tools we find out what keywords are most important to you including hidden long tail keywords that you're probably not aware of.
These long tail keywords make up about 70% of all searches online which means the majority of people finding you are coming through these types searches. Long tail keywords are also less competitive which means we can rank for them faster.
WEBSITE COPYWRITING
According to multiple SEO studies
content marketing
is the biggest on-site ranking factor.
This means your website's copy is the foundation of your on-site SEO. Without proper copywriting, you usually don't have a shot at being on the first page and definitely not in the three spots (where as much as 61% of clicks go).
Our professional copywriter does a one hour interview with you to understand your business and your brand. We combine this interview process with in-depth keyword research and a competitive analysis to create a sound copywriting strategy and then implement it with smart and beautiful
web design
.
ON-SITE TECHNICAL SEO
To rank your website search engines send bots that crawl (read) your website's code. Technical SEO is the process of making your website as legible as possible for these bots, enabling them to crawl your site faster and more accurately (both important SEO factors).
All of our websites are built with the best practices of technical SEO in mind so Google and other search engines can rank you quickly and for your targeted keywords.
CITATION BUILDING
Citation building is the low hanging fruit of the SEO world and involves getting your NAP (name, address, phone number) and other information as far and wide online as we can. This basic strategy lets search engines know who you are and makes sure your information is accurately spread across the web.
LINK BUILDING
Links are the #1 and #2 ranking factor for websites. They are also the hardest factors to influence and the most time consuming. Since content optimization is most within our control we always focus on that first, however, if you're in a competitive industry then getting high quality external links (links from other websites pointing to yours) is an absolute must.
There are multiple strategies and tactics we use for link building some of which include guest blogging, getting links from your partners, vendors, or customers (if a B2B business), and seeing where your competitors get their links from and seeing if we can use the same source to obtain a link from them.
MOBILE OPTIMIZATION
Mobile optimization is no longer optional if websites want to rank in the top spot. Google is taking mobile optimization so seriously that they are actually punishing those without mobile-optimized sites by lowering their rankings. And it's understandable considering worldwide their more people surfing the internet on a mobile device than there are from a desktop.
At Websauce we use responsive design in every single website we create meaning your website will adapt to whatever mobile device it's being seen on.
LET'S GET STARTED
If you're interested in our search engine optimization service or have any questions feel free to contact us by phone or by filling out the form below.