LOCAL SEO SERVICES WE PROVIDE
Monthly Rankings Report
Social Media Marketing
GMB Optimization
Citation Building
Reputation Management
Link Building
Copywriting
Web Design
Social Media Marketing
MONTHLY RANKINGS REPORT
Before we start working on your
LOCAL SEO RANKING FACTORS
The local SEO services we suggest and prioritize for our client are based on two things - level of competition and budget. There is no one size fits all plan. We know what works. We also know it takes more time to rank higher in some industries and cities than in others. If you're curious about why we offer the services we do,
here's the data
from thousands of businesses across the US that tells us what Google's ranking factors are.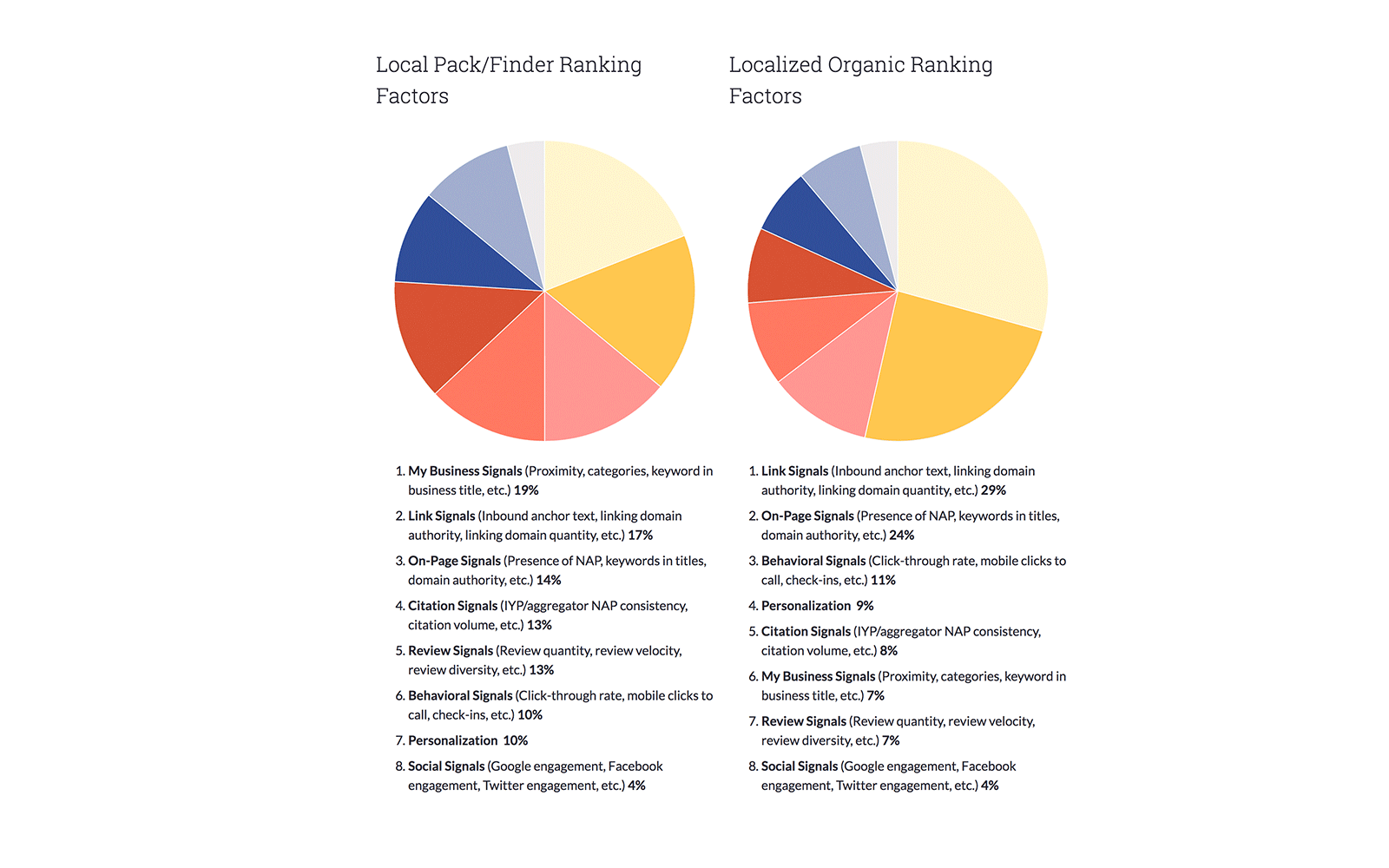 Above is a graph showing the importance of each category of local SEO factors.
GMB OPTIMIZATION
Optimizing your Google My Business page is a foundational piece of local search engine optimization.
There's nothing complicated about, but there are factors within your GMB listing that will either work for you or against you.
We make it for you.
CITATION BUILDING
The low hanging fruit of local search engine optimization. A citation is a profile and link to your website from an online directory. In Sacramento the most popular directory is Yelp. These are easy to attain but can be very time consuming as a business owner.
We optimize every profile with your business's information and photos. If you have an ongoing marketing plan with us we update each of these profiles on a quarterly basis.
REPUTATION MANAGEMENT
We've eliminated the risk of receiving bad reviews.
Our
reputation management
software emails your customers and makes it easy for them to leave you a review. If they give your business a rating lower than four or five stars (whichever you choose) they are redirected to a form asking for feedback instead of being directed to the review website.
Google changes the results people see when they add the the terms "best" or "highest rated" to their search, making your online reputation more important than ever.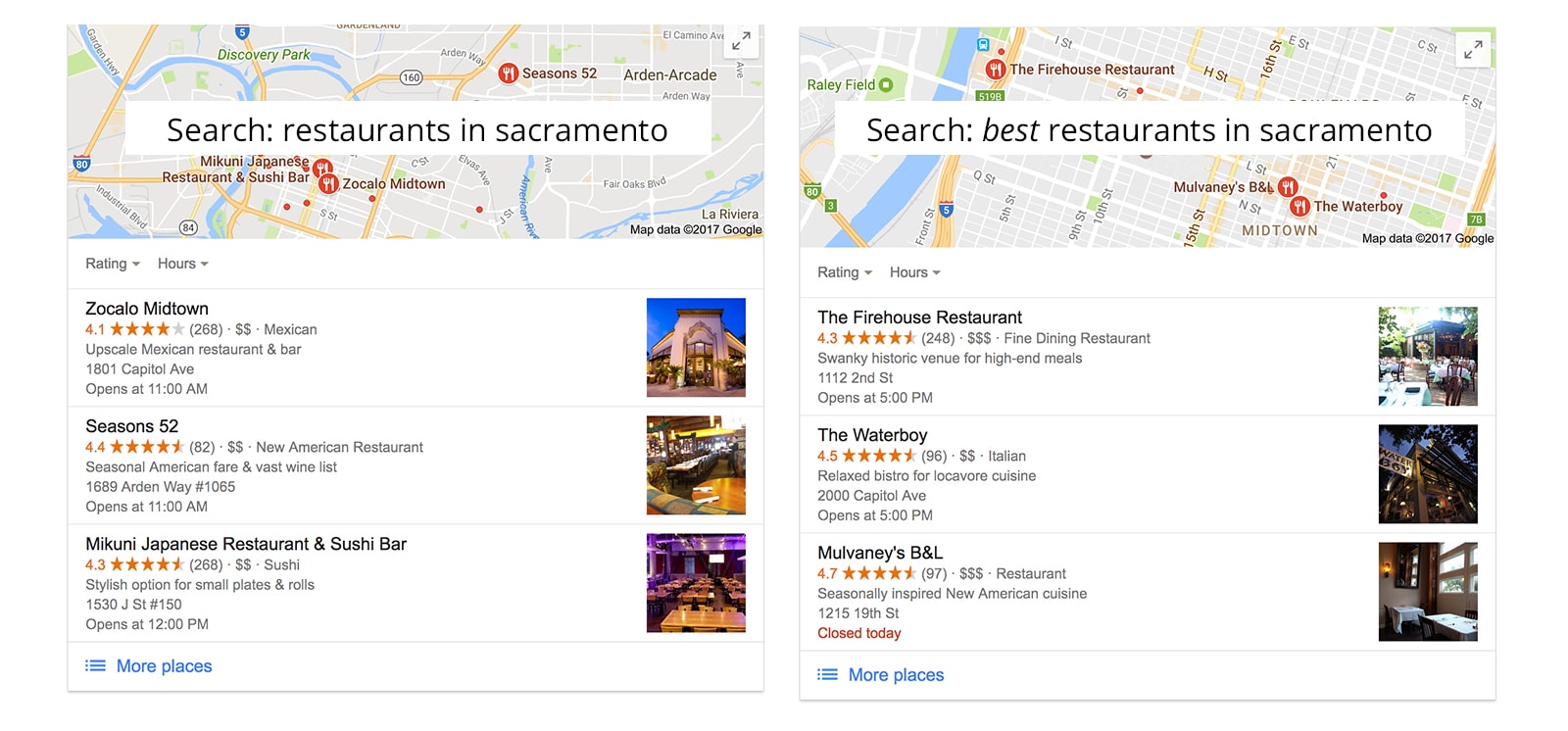 Above shows how the results differ in the local 3-pack when "best" is added to the search "Sacramento restaurants"
LINK BUILDING
Links to your website are the most heavily weighted ranking factor by Google.
Google sees a link as a sign of trust. When another website links to yours it means the people who made that link are willing to refer people to your website. When many websites link to yours it means many people must trust you and the information you're providing.
There are multiple ways to build links. Some ways we do it include:
Blogging On Your Website
When you have high quality information on your website others will link to it because they'll want to share the valuable information your providing with their own audience.
A perfect example of this is the article we linked to earlier on this page when referencing the data we use. Their information is useful so we reference it and they get the benefit of our audience going to their website and a boost in the search rankings.
Guest Blogging
Sometimes it can be beneficial to put content on another website instead of your own. This is a good way to build a mutually beneficial relationship with another organization.
You're providing their audience with valuable information. It's an opportunity to familiarize their audience with your offerings since you'll be given credit for the article as the author. You'll also get the link back to your website. An example of this is a guest post our Marketing Director, Andrew Peluso, did for the Upcity.com blog.
Above is the article Andrew wrote,
10 Social Media Management Tools to Supercharge Your Social Presence
. The article was shared 37 times on social media, giving Websauce exposure to not just Upcity's audience, but also the friends and colleagues of those who shared it.
Competitive Research
We use powerful software that analyzes your competitors' websites and finds the links pointing to them. We determine which websites pointing links to your competitors might be willing to link to you as well. We implement a strategy for outreach and acquire those links for you.
Internal Linking
Internal links are links within your own website which point to other pages on your website. Even though you're pointing to your own website Google still considers these valuable. This is because it helps Google determine what the page you're pointing to is about.
An example of this is within the reputation management paragraph above. The words "reputation management" link to our reputation management service page.
COPYWRITING
Copywriting for local SEO includes the copy on your homepage and inner pages (service and product pages) and blogging or guest blogging.
Our copywriter will combine a one hour discovery session and keyword research to determine the tone of your copy and what keywords to target.
WEB DESIGN
The design of your website is crucial to your local SEO for two reasons.
The first is because consumers expect
small business websites
to be as top notch as large companies. If your website isn't then you're likely losing business.
The second is because Google uses user experience signals to determine the quality of your website. These signals include how long a person stays on your website and how many pages they go to after landing on your website. If you have poor
web design
then people will leave quickly and your rankings will suffer.
SOCIAL MEDIA MARKETING
Our social media marketing service will provide your customers with high quality and helpful articles related to your industry. We focus on Facebook and Twitter, and/or Linkedin depending on your audience.
We recommend posting no more than once per day and no less than three times per week.
Let's Get Started
Have questions or want to get started? Call us today or fill out the contact form below.